Electric vs. Water Radiant Heat
A short description on the difference between electric and hydronic radiant floor heating systems.

Radiant heating is becoming more and more popular, and the benefits are becoming more widespread.  For some people, they've made the decision to switch to radiant heating, but haven't decided which one would be better in terms of and electric system or hydronic one.  Radiant floors are heated with either electric resistance cables or hot water flowing inside tubing. Let's take a look at the two.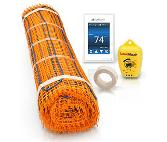 Unlike water-based systems, the electric systems do not need a costly boiler, pump and control system. Bob Vila writes on his blog, "The cables, which are often pre-attached to mats for ease of installation, are installed over the subfloor in a bed of thin-set mortar. Ceramic or stone tile are popular finished floor choices. There are also radiant electric floor heating pads that can be installed under laminate and other floating floors, such as engineered hardwood." You can use TapeMat mats with pre-attached cables which are almost as easy to install as rolling out an area rug. WarmWire is just the heating cable for more "free form" zones. There is also an Underfloor Mats to staple up against the subfloor for rooms where the flooring is already installed but the underfloor is exposed. 
Electric floor heating systems are a little more expensive per square foot, so they're generally limited to small areas like a bathroom or kitchen. But if one considers labor, can be less costly than hydronic systems on larger heating areas. 
Electric floor heating products deliver true radiant heating. It feels like a gentle foot massage or a walk on a warm beach. Warm floors are also dry floors and that is important in any bathroom, kitchen, or entry. 
 These are designed to heat up the entire house. Water flows through the tubing installed underneath the floors. "The tubing can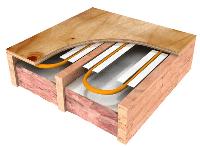 be installed in several ways: embedded in a concrete slab, installed over an existing slab in cement, stapled under subflooring, or fitted inside the channels of specially designed subfloor panels." Hydronic systems will save energy and lower your utility bills. (Instead of using a boiler to warm up the water. – remove) In effect, the entire floor is a radiator, so the boiler can run at higher efficient low water temperatures than those required for hot conventional radiators.
 PEX Tube is excellent for potable water distribution systems but it has revolutionized under floor heating since the time it has emerged in the market. You can feel confident using PEX tube in your next radiant floor or domestic water system installation. 
PEX-AL-PEX tubing is an upgrade on PEX tubing. Due to its internal aluminum core. PAP has higher hydrostatic pressure strength, higher bendability, and doesn't expand and make noise like PEX Tubing. Consider PEX-AL-PEX pipe on your next staple-up or subfloor "sleeper" project. 
Onix Tubing is a revolutionary way of delivering hydronic heat. Onix is the fastest, friendliest, and safest radiant pipe you can specify or install. When compared to a PEX with heat transfer plates system, Onix wins on price and performance. This EPDM rubber hose does not expand and contract and has heat transfer characteristics such that it does not need heat transfer plates when stapled up under subflooring. Contractors find it goes into "renovations" in about one-quarter the time as PEX tubing with heat plates. If you are doing a heated concrete slab with decorative cuts, you will want to use flexible Onix tubing to ensure a leak free system.