WarmWire Floor Warming Cable
Electric floor warming wire is and excellent solution for bathroom and kitchen heated floors. Electric floor warming wire must be installed in a cement layer. This would usually be the mortar bed that the flooring tile was set. However, you can put electric floor warming wire in self-leveling cement poured as thin as 1/4 in. with a floating engineered floor over top.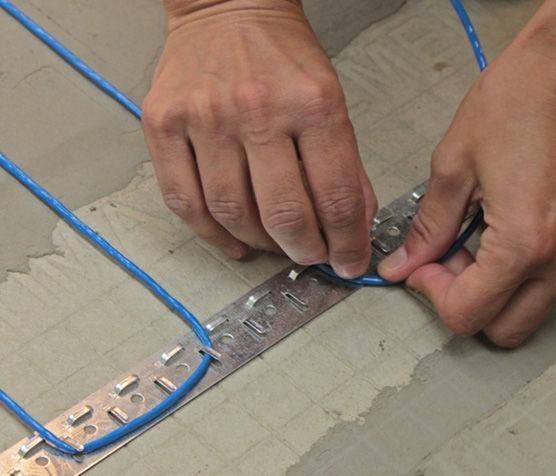 Installs in Tile Mortar Bed
WarmWire is a series resistance heating cable assembly for installation over plywood, backerboard, or concrete slab (according to ANSI or TCNA guidelines), and then embedded in 3/8 in. (9.5 mm) or greater self-leveling or polymer-modified thin-set mortar.
WarmWire cables contain an electric heating wire to provide underfloor heat in bathrooms, kitchens, entryways, and other areas, and are an affordable alternative to radiant heated mats. Approved for installation in shower applications where permitted. Durable, constant-diameter wire is easily secured at 2.5 in., 3 in., or 3.5 in. intervals with CableStrap. Controlled by a SunStat floor sensing thermostat (sold separately). WarmWire is available in various lengths with voltage options of 120 or 240VAC.
Features
Provides an affordable underfloor heating alternative to radiant heated mats in bathrooms, kitchens, entryways, and other areas

For installation over plywood, backerboard, or concrete slab

Suitable for installation in a shower area where permitted by local authorities

Controlled by a SunStat floor sensing thermostat (sold separately)