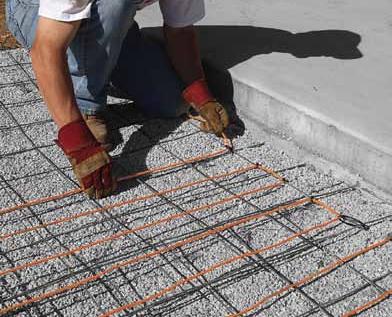 Watts SunTouch ProMelt Cables
ProMelt cable consists of a series resistance heating cable and a single power lead for easy single-point connection. It is used to melt ice or snow from an exterior surface and is designed for outdoor use only by embedding in concrete, pavers, asphalt, or sand.
ProMelt cable is flexible and an ideal choice for curves, stairs and free-form shapes. Spacing can be at 3 in. or 4 in. depending on heat loss calculations (3 in. OC for 50 Watts/ft2 and output or 4 in. OC for 38 Watts/ft2). Secure to existing concrete with CableStrap and to rebar and rewire with ties. Available in several lengths and in 120, 208, 240, and 277 VAC.
Features
Flexibility makes it an Ideal solution for curves, stairs, and free-form areas outdoors

Easily installed under concrete, pavers, asphalt, sand, or tile

High-quality heating wire components including high-temperature ETFE element covering and polyurethane jacket

Available in several lengths and in 120, 208, 240, and 277 VAC