SlabHeat Concrete Slab Heating Cable
You may have thought that the only way to heat a poured slab was with hydronic tubing. You may use an electric heating cable attached to the slab reinforcing wire. The cable needs to be of sufficient capacity to handle the heat mass of the slab. Usually 10-15 watts/sqft is needed.

Depending on the size and the current load of the install, either the thermostat can directly switch the power to the heating wire or you would need a high current relay contactor to switch the current load.
The heating wire is made from a non-corroding material for long life. The heating wire length is set at the factory and should not be cut in the field. Any repairs need to be made with a factory supplied splice as the wire does not lend itself to common splicing methods. The heating wire needs to be installed in a cement layer to keep it's UL and fire ratings. The mats come with a "cold" lead where the heating wire connects to the copper conductor. That cold lead can be extended to allow for easier installation.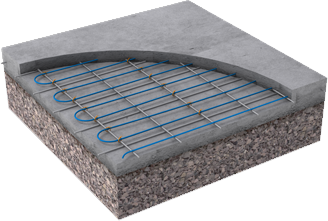 Electric wire installed in a slab
The cold lead will run to a thermostat with a floor sensor. The thermostats will regulate the duty cycle of the power to the floor heating wire to raise the floor temperature within a high/lo limit. The thermostat will raise the floor temperature till the room temperature reaches the setpoint. It will then maintain that floor temperature to keep the room temperature. The thermostats come in programmable versions so that you can change the desired temperatures at different times of the day. i.e. warm bathroom floors in the morning. The thermostats can also be wifi enabled to allow you to monitor and change the settings from an app on your phone.