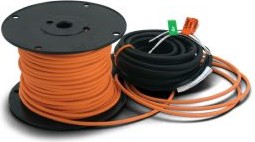 SC50208080
Watts SunTouch ProMelt Cable, 80 sqft, 50W/sqft, 208V
---
Watts SunTouch ProMelt Cable, 80 sqft, 50W/sqft, 208V
---
---
Details
Details:
| | |
| --- | --- |
| Amp. Draw | 19.2 |
| Supply Voltage | 208 VAC, 1-Phase |
| Maximum Circuit Load | 50 Amps |
| Heating Density at 3 in. Wire Spacing | 50 W/sf 170 BTUh/sf |
| Heating Density at 4 in. Wire Spacing | 38 W/sf 130 BTUh/sf |
| Maximum Heater Current | 24 Amps |
| Min. Bend Radius | 1 inch |
| Max. Exposure Temperature (continuous and storage) | 221°F (105°C) |
| Max. Exposure Temperature (short-term for asphalt covering) | 285°F (140°C) |
| Min. Installation Temperature | 40°F (4.5°C) |
| Length | 317 |
| Ohms | 8-11 |
Description
208VAC Snow Melting Cable
ProMelt Cables cost less than ProMelt Mats and give you more layout options.
In both products, the heating elements are surrounded with the same high-temperature ETFE and engineered polyurethane outer jacket for long life and jobsite toughness, including installation in asphalt. ProMelt Cables are usually tied to reinforcing wire 3 or 4 inches on center. That provides either 50 or 38 Watts per square foot. ProMelt Cable can go perimeter to perimeter or fill odd-shaped areas for complete snow melting coverage.
There are a lot of ProMelt Cable sizes in stock in four single-phase voltage options. All the cables terminate at one end with a power lead so you only make one connection to your electrical source.
ProMelt Cables save on material costs, give you more flexibility and carry a 10-year limited warranty.
Follow these recommendations when selecting ProMelt Cables:
Determine what voltage will be used:

120V, 208V, 240V, or 277V.

Determine the heat output.

The climate and amount of snowfall will dictate this choice. In general, most systems will require 50 Watts/Sq.Ft. spacing (3" o.c.) to melt snow and ice. Some residential or light commercial systems in temperate climates, may need only 38 Watts/Sq.Ft. spacing (4" o.c.).

Determine the square footage of the area to be melted.

Do not include areas under built-ins like planters or similar obstructions. Stay 3-6" from edges of slabs and do not cross expansion joints if possible. Add up all the areas to be melted
and round down to the nearest cable size(s) to fill the area.
Alternatively, you might want to figure the total length of cable needed. This can be better for an area such as tire track melting. As an example, a 24"-wide track with 3" o.c. ProMelt Cable will go back and forth eight times to fill a 24"-wide track. If the tire track is 25' long, then each track will need 8 lengths x 25 feet or a total of 200 feet of cable.
More than one cable can be used to melt an area. Combine cables in a manner not to exceed the capacity of the electrical control selected. If using our ProMelt ContactorPro controls, each area should not exceed 50-amps, since these controls are built with 50-amp contactors. Therefore, we recommend dividing the area(s) into "sub-zones", if necessary or desired, to minimize the cable amp load connected to each contactor.
Listing
: ETL Listed for U.S. and Canada under UL 515, IEEE 515.1, and CAN/CSA C22.2 No. 130-03 Listing file number: 3151992
This is a preview of the recently viewed products by the user.
Once the user has seen at least one product this snippet will be visible.
Recently viewed Products