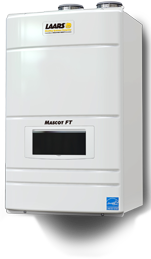 MFTHW100NA2XN
Laars 100,000 BTU/Hr Wall-Mounted Condensing Boiler
---
Laars 100,000 BTU/Hr Wall-Mounted Condensing Boiler
---
---
Details
Item Details:
| | |
| --- | --- |
| Input, Max Fire MBH (kW) | 100,000 |
| Output, Max Fire MBH (kW) | 93,000 |
| Weight, Unit lbs. (kg) | 98 (44) |
| HxWxD Inches | 29x17.3x15 |
| Turndown | 5:1 |
| Heating "CH" Supply NPT | 1 1/4 in. |
| Heating "CH" Return NPT | 1 1/4 in. |
| Heating CH Return NPT | |
| Gas Inlet NPT | 3/4 in. |
| Efficiency AFUE | 95% |
| Air Intake & Exhaust Outlet Collar Inches (cm) | 3 (7.6) |
| Fuel | Natural Gas or Propane |
| Warranty | Limited 10 Year Warranty |
| Warranty | Limited 10 Year Warranty |
Description
High Efficiency Fire Tube Combi Boiler
Description
The Mascot FT is a combination ("Combi" - heating and domestic hot water) or heating-only wall mounted boiler packed with features. It easily satisfies the space heating and hot water needs of the modern home.
Powering the Mascot FT is an advanced fire tube heat exchanger that uses the latest in heating tube technology. Our heat transfer tubes are constructed with an inner finned aluminum core and an outer corrosion-resistant stainless steel sleeve. This combination results in a system that delivers quick heating response, exceptional efficiency, and years of reliable service.
Advanced Straightforward Controls
Every Mascot FT is equipped with the advanced Laars Integrated Control System
Easy-to-use dial and push button input system with large backlit display
Functions are clearly displayed for quick set-up and diagnostics
Quick access buttons for temperature control and boiler status functions
Outdoor reset feature for fuel savings
Saves You Money
Greatly reduces heating bills when compared to older, low-efficient boilers-up to 20% lower! Potentially saves thousands of dollars in heating bills over the life of the boiler.
Up to 95% efficiency (AFUE) equals lower fuel use
Outdoor reset technology balances your home's heating needs with the outside temperature
Mascot FT modulates to a lower firing rate during cool days to reduce fuel use even further
Maximum Rebate Eligible-check federal, state, and local rebates for upfront savings!
Enough Hot Water for Everyone
The Laars Mascot FT combi models use a "hybrid water heater design" that combines the best of tankless water heating and tank type water heating into one compact system.
A half gallon mini-indirect tank is kept charged with hot water, always on standby to ensure that you have hot water available as fast as possible.
When the half gallon of hot water begins to be used by your faucet, shower, etc., the boiler fires and immediately begins to produce more hot water.
The half gallon mini-indirect tank makes sure you have hot water quickly and the boiler makes sure you never run out of hot water for as long as you need it!
The best of both worlds! Hot water fast and an endless supply never run out again
This is a preview of the recently viewed products by the user.
Once the user has seen at least one product this snippet will be visible.
Recently viewed Products