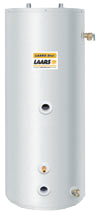 LS-DW265L-464
Laars 65 gallon Double Walled, Glass Lined, Indirect Water Heater
---
Laars 65 gallon Double Walled, Glass Lined, Indirect Water Heater
---
---
Details
Item Details:
| | |
| --- | --- |
| Size | 65 |
| Capacity (gal.) | 47 |
| Shipping Weight (lbs) | 235 |
| Height (in.) | 59 |
| Diameter (in.) | 22 |
| DHW Outlet NPT | 3/4 in. |
| DHW Inlet NPT | 3/4 in. |
Description
LAARS-Stor® Double Wall
Description
The Laars-Stor2™ features a patented double-wall carbon steel heat exchanger coil coated with a glass-lining for corrosion resistance and long life. The Laars-Stor2 supplies a first hour rating of 120 to 158 gallons per hour.
Features
Heat Exchanger - Double wall 1-1?2 in. (38mm) O.D. glass coated steel coil. Because the double wall coil has a positive leak path, the hydronic fluid will stay separate from the potable water.
Low Heat Exchanger Head Loss - Up to 10 GPM flow, with less than 5 ft. (1.5m) of head loss. Greatly reduces the required pump size for heat exchange.
Factory Installed Sediment Reduction System - Cold water inlet sediment reducing device. Helps to minimize sediment build up in tank. Increases first hour delivery of hot water while minimizing temperature build up at top of tank.
Insulation System - 2 in. (51mm) Non-CFC foam insulation covers the sides and top of the tank, reducing heat loss. This results in less energy consumption, improved efficiencies, and jacket rigidity.
Glass Lined Tank - LAARS® Heating System water heater tanks are protected from the corrosive effects of hot water by an exclusive ceramic porcelain-like coating.
Fully Automatic Thermostat Controls - Fast acting surface-mount thermostat for automatic temperature control.
Supply and Return Connections - The 3/4 in. (19mm) NPT female connections are located on the front for both the boiler supply and boiler return.
Potable Water Connections - 3/4 in. (19mm) NPT factory installed true dielectric fittings extend water heater life and eases installation.
Two Protective Aluminum Rods - Provide added protection against corrosion for long trouble-free service.
Steel Tank - Heavy gauge steel automatically formed, rolled and welded to assure a continuous seam for glass lining.
T&P Relief Valve - Included.
Low Restriction Brass Drain Valve - Durable tamper proof design.
AHRI Certified - These water heaters are rated by the Air-Conditioning, Heating, and Refrigeration Institute to provide accurate performance data within the standards of the certification. This certification provides a recognized standard for proper comparison of hydronic appliances.
This is a preview of the recently viewed products by the user.
Once the user has seen at least one product this snippet will be visible.
Recently viewed Products