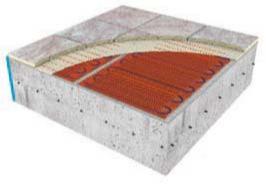 TapeMat Over Slab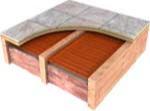 TapeMat Underfloor Heating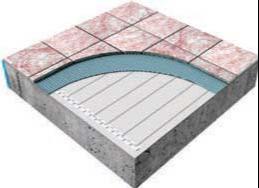 WarmWire over Slab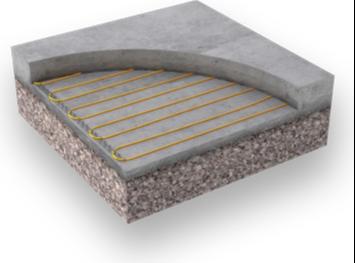 ProMelt Wire
Electric Radiant Floor
Electric Radiant Floor is 100% efficient and easy to install. Check out the reasons why this is the most used form of radiant heat.
Using an electric radiant floor is another option for those looking for a radiant floor heating system. Radiant floor wires or mats are another option for the installation of a radiant floor, as opposed to a hydronic radiant heat tubing system. Both offer comfort in the heating of the home by providing true radiant heat and not just heating the air that surrounds them.
Installing Electric Floor Heating System
The watts radiant line of products for electric floor heat is the perfect blend of luxury, practicality and affordability. Pexheat offers this premium solution for above floor heating, underfloor heating, and electric snow melting. Electric radiant floor heating generates an even temperature throughout the room, from floor to ceiling. The installation of the system is very fast and easy. It does not increase the height of the floor as the electric floor heating system is very thin and is made of top quality environmentally friendly materials. There can be nothing more relaxing than a warm floor on a chilly days. It also warms up your mood.
Benefits of Electric Radiant Floor | Electric Floor Heating
Electric floor heating systems provide soothing comfort and consistent even heat for your tile, stone, laminate, and engineered wood floors without cold spots. Bid good bye to chills with the help of an electric radiant floor heat system. Our products are environment friendly. Our floor heating experts are always there to assist you in the smallest if problem, if any, while installing or using the electric floor heating system. They also facilitate you in choosing the right systems for your specific needs.
Electric Radiant Floor Heat
The electric radiant systems carried by Pexheat allow the complete use of floor area and it does not dry the air in the room. We have a selection and believe in quick deliveries. Electric Radiant Floor can be used in bedrooms, bathrooms, kitchen, basement, entrance ways, walk ways and driveways. Where ever you wish. We invite you to contact us to find out how you can experience electric floor heat from Pexheat. If you have a difficult to heat room, all your heating problems will be solved by our state-of-the-art Radiant floor heating system. No costly boilers or water heaters to install. And it's 100% efficient. Every dollar you spend on energy goes into heating your room.
Anatomy of a quality heating cable: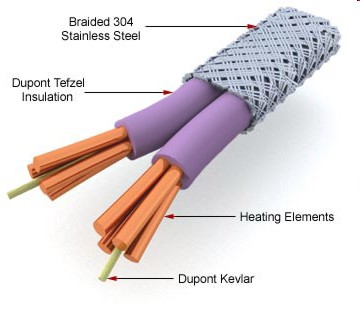 Thin, open-weave construction that allows thin-set or self-leveling mortar to install in one    step to easily bond with the underlying material, usually allowing only 1/8" over a normal    tile installation.
Over 45 sizes manufactured in three widths (1', 2', and 3' wide) in sizes covering up to 160    sq.ft. Mats of any size (same voltage) may be combined to heat larger areas.
120 VAC and 240 VAC models available for small residential to large commercial applications.
Highest-quality heating wire using DuPont® Kevlar®, Tefzel®, and copper alloys for corrosion-resistance, temperature-resistance, abrasion resistance, and longevity.
Armored and fully grounded 10-ft. power lead for safety and job-site durability (longer lengths available on request).
Power leads are color-coded black/white/green for 120 VAC, and black/blue/green for 240 VAC.
Zero electromagnetic field (EMF) generation (measured at 1/2" above operating wire set at milligauss setting).
Whether you are looking to install a do it yourself electric radiant floor heating system or are a professional contractor, Pexheat can help you find the materials, tools, and information you need to get your radiant floor installed right the first time. You can browse our catalog, fill out our RFQ form online or fill it out and fax it back to us.